Ever heard the phrase "It's not what you know, it's who you know"? Okay, maybe that statement is not 100 percent accurate, but who you know is still important to the overall success of your new business.This is where networking comes into play.
Networking [net-wur–king] – a supportive system of sharing information and services among individuals and groups who have a common interest (dictionary.com)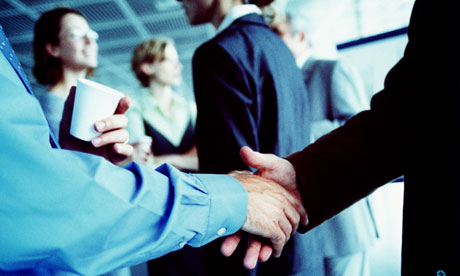 Entrepreneurs might stand out alone when viewed against the nine-to-five crowd, but business communities and startup owners often foster creative and productive dialogues where new ideas are born. Networking with fellow entrepreneurs and other leaders in industry and business can also create pathways and opportunities that, otherwise, would have never existed. One of the most important reasons to network comes down to a single point — your expertise does not cover everything. Here are a few great places to begin building your network:
Social media: Put that Twitter account to good use!
Networking events: Conferences, seminars and even industry conventions are perfect opportunities to grow your network.
Business deals: Get to know your suppliers and influential employees who work at companies with which you routinely do business.
Networking is a lot like creating a little black book for your business to use in times of need. Have you started yours yet?